Headlines
The data from Kantar World Panel, for 12 weeks to 17th May 2020, places SuperValu in top position again, stretching their lead, with 22.4% of the ROI grocery market. Tesco have moved up to second on 21.8%. Dunnes continue to slip and are now third, on 21.0%. Lidl are steady with 12.0% share, ahead of Aldi on 11.7%. 'Others' have grown to 11.1%, capturing the combined performance of symbols, independents, butchers, M&S, Iceland, Dealz and others besides.
Be very clear, this data is about market share. The rankings may be different, and some retailers may have lost or gained share, but they are all experiencing a massive sales uplift with the overall grocery market growing by 25.4% in the last 12 weeks. The question is, why have some retailers seen a bigger uplift than others, and is there anything they can do to address the challenges or exploit the strengths?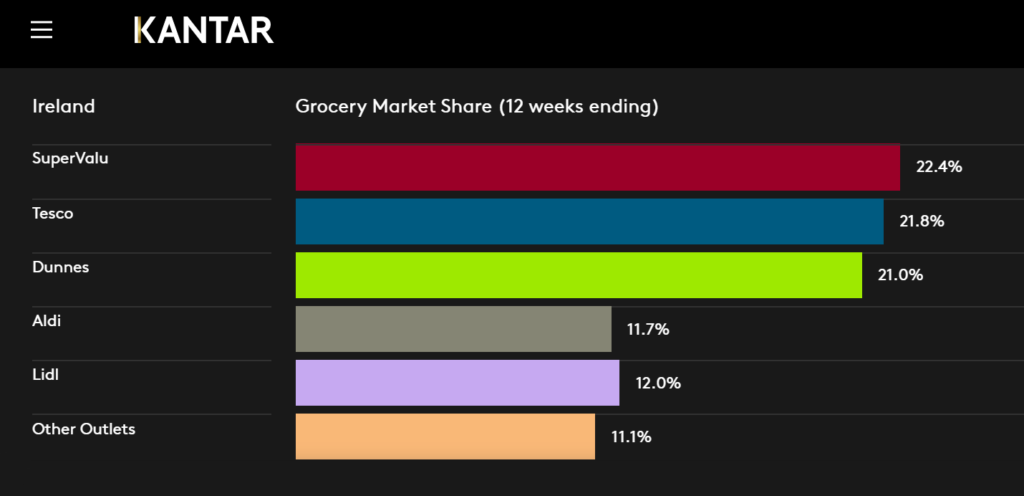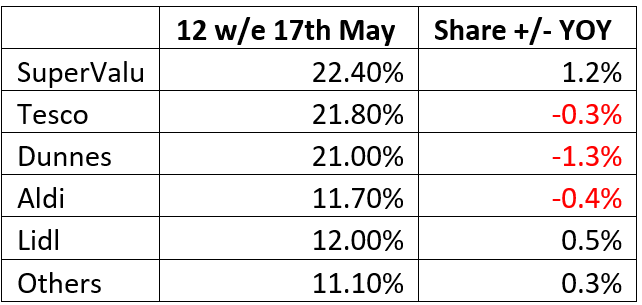 Shoppers are scared
We know that shoppers have been spooked by the pandemic. They're scared about mixing in public spaces, scared about picking up the infection, scared about the economic impact on their jobs and a future recession. Our society has seen germaphobia evolve into agoraphobia, even xenophobia and OCD. We've changed and so have our attitudes to shopping. The priority now is to stay safe. So that means shopping quickly, in one location, with less frequency, to reduce our exposure to people and the virus. But as the restrictions are lifted, it will be very interesting to see how behaviours change. And if recession begins to bite, there may also be new push factors that drive shoppers away from their preferred lockdown supermarket. Price may come strongly on the radar again, and savvy shoppers will recognise where prices have been inflated during the lockdown.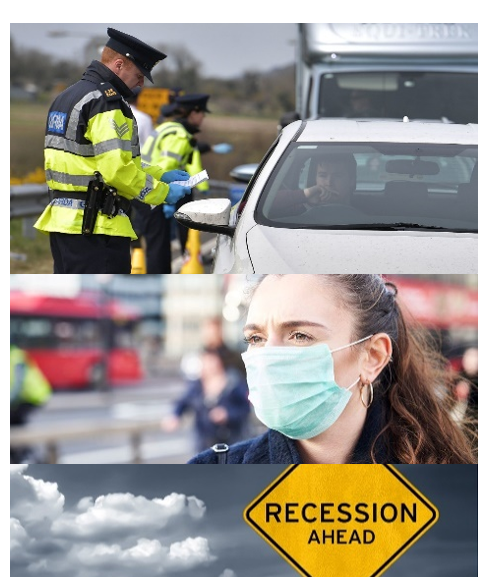 SuperValu and Centra are in prime position to benefit from this new terrain. With nearly 700 locations in the ROI market, shoppers are always near a Musgraves shop. Their numerical superiority and geographical proximity have given them the advantage for shoppers who have been told to stay at home and not travel. SuperValu also appear to have picked up much of the online demand that overwhelmed Tesco in the early days of the lockdown. And Centra have managed to quickly pull together an online shopping and delivery service too. But as society starts to re-open and re-start, will shoppers stick with their newfound habits? The winners here will be retailers that spot the micro-dynamics and adapt accordingly. Again, Centra showed a great example of this by welcoming back the construction workers on 18th May.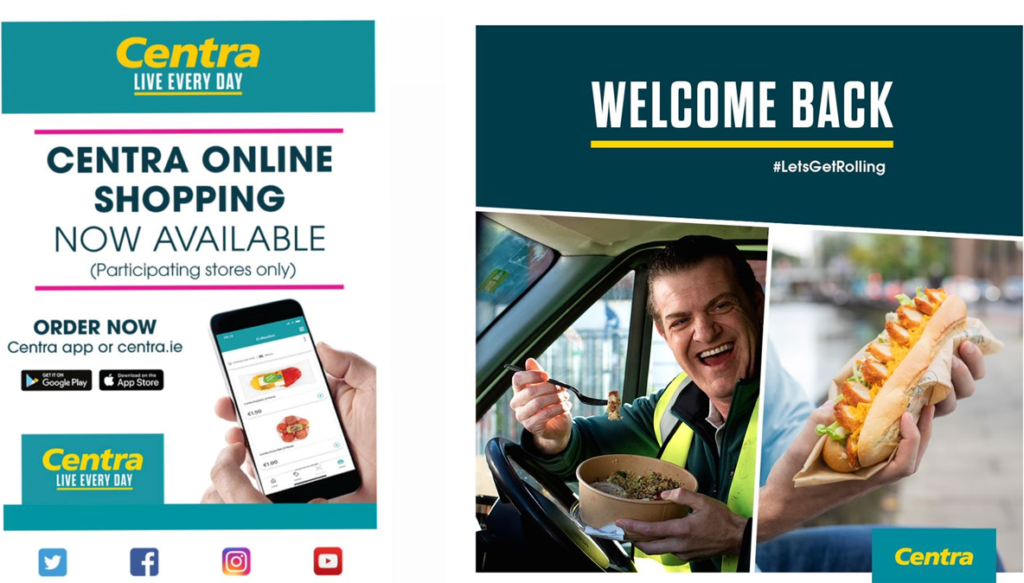 Tesco are down -0.3% points year on year on 21.8% share and have jumped to a clear second place. In last month's article we highlighted that Tesco were benefiting from several factors:
Bigger stores to help implement social distancing
Strong range and supply chain to ensure availability and negate the need for shopping around
Robust hygiene protocols around trolley and hand sanitising
Online ordering and delivery capability
This combination of strengths did unfortunately increase the chance of queues outside, and queues were the reason why 23% of switching shoppers had decided to shop elsewhere. Tesco have quickly responded with the introduction of an automated queue management and customer counting solution, using 3D body imaging.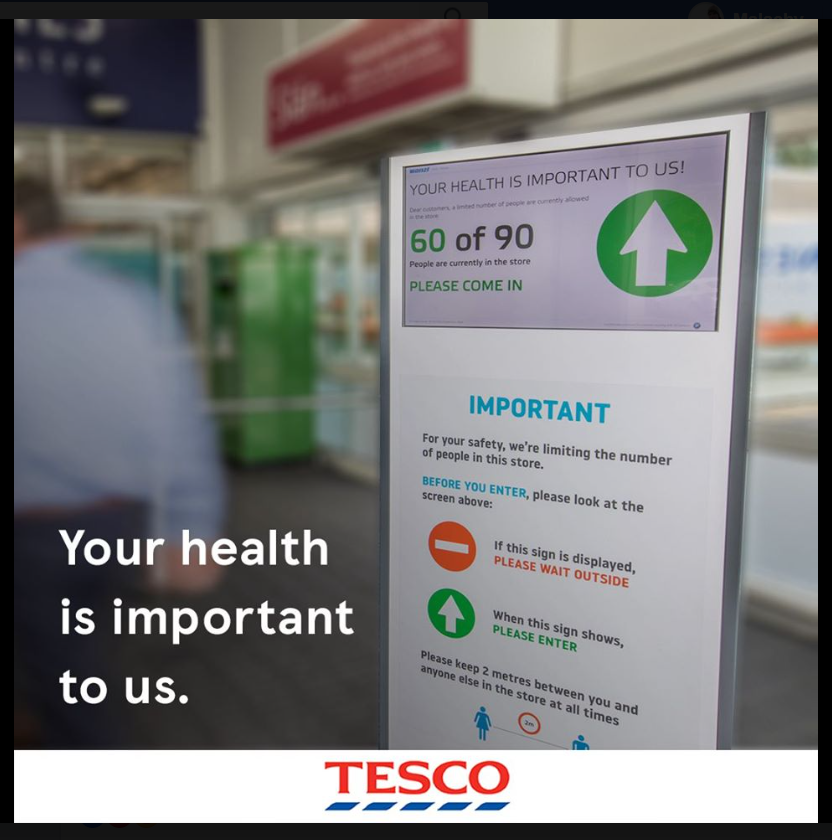 Dunnes are down -1.3% points year on year, at 21.0% share. They have managed their in-store experience and hygiene protocols very well. And their €10 off €50 voucher is just as evocative as ever. The big issue is their lack of online grocery ordering and delivery. Kantar reckon that online grocery sales have grown by 76% in the last 12 weeks versus last year. How long can Dunnes not play in this space?
Lidl have moved ahead of Aldi since the pandemic. They have a 20-store advantage and therefore more capacity to absorb the uplift in take-home grocery shopping. They also have some online capability via buymie.ie. Crucially, they have continually sought to improve through the crisis. The latest examples are their new queue management systems using chat-bots and an automated monitoring & traffic light system to let shoppers know when to wait and when to enter. It's a typical discounter response, brilliantly efficient, answers a shopper need and dispenses with the person previously supervising the entrance (and the cost).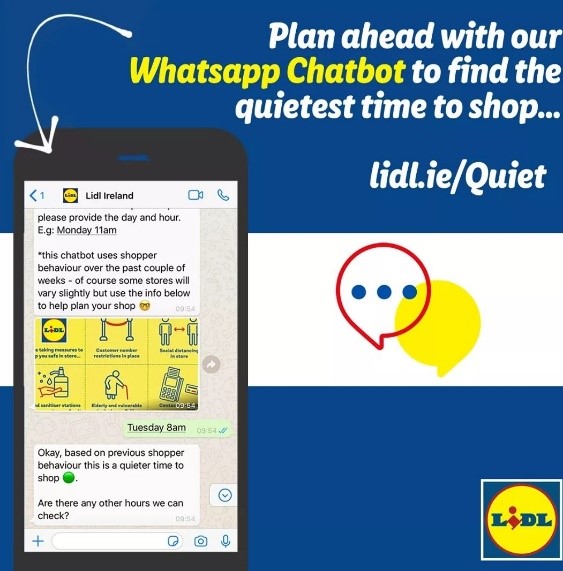 For suppliers, they key focus right now must be managing availability. There are countless quirky examples of suppliers seeing phenomenal growth or decline based on new shopping patterns and social distancing rules. The challenge is to control the things you can control, and this means getting people out to stores to assess on-shelf availability and take action where needed.
Collision Course
There's no question that retailers are experiencing week after week of record sales levels, but it would be wrong to conclude that they are making record profits. The cost of their covid-19 reaction has been considerable. Increased cleaning schedules, millions of litres of hand sanitizing gel, trolley sanitising sprays, in-store communications material, extra staff, extra training, new tech solutions do not come cheaply. Furthermore, Aldi, Lidl, Tesco and Dunnes all quickly moved to pay their staff an increased hourly rate or 'frontline bonus'. This all costs more money at the same time as their margin mix has been dramatically eroded. Higher margin categories like in-store bakery, food to go and non-food have been severely hit whilst shoppers have been buying lots more scratch cooking ingredients, many of which are private label, price-matched to discounters and produce very low margins. Some commodity prices have nose-dived, but others have spiked. Add in the margin drag of additional picking and home-delivery costs and the 2020 P&L could start to look like a car crash.
When retailer margins are squeezed it normally expresses itself in downward cost pressure on suppliers. But suppliers are under the same pressures, investing in new kit to implement permanent social distancing in the factories, introducing extra (but less efficient) shifts to create staff segregations, dealing with extremely erratic demands for their raw materials and production planning.
Retailers will need to take extreme care to navigate these challenges. They cannot simply assume that their higher volumes will deliver lower costs at the next tender or negotiation. And if they act too assertively with suppliers, then suppliers will prioritise those retailers that are fairest in their dealings. This must be a consideration, especially with the likelihood of a second wave this autumn, and the associated phases of lock-down and panic buying. So, how does this square peg fit in a round hole? For sure, most retailers have pulled back on promotional activity, and this has pushed the average selling price up. Initially this was to discourage bulk-buying. But more recently, its likely more about margin management. Interestingly, private label sales have only grown at +19% in the last 12 weeks, versus brands at +32%. Much of this stems from the relative market share gains of SuperValu and the corresponding losses at Aldi. But some of it could be due to the market prioritising the availability of higher price-point, higher margin brands. And this points to the unrealistically low margins now generated on many core grocery PL items. The question is will consumers pay higher actual retail prices to reflect the higher costs. In most European countries, retailers have publicly announced price freezes, at least until July. But this hasn't happened in Ireland so far and it will be worth watching the retail price movements over the coming weeks.
Malachy O'Connor
Retail Industry Consultant & Director at Food First Consulting www.foodfirstconsulting.ie
Partner at International Private Label Consult www.iplc-europe.com