Headlines
The Kantar data for the 12 weeks ending 21st February shows a growth of 16.3% in the take-home grocery market. This represents an extra €450 million spent by Irish households on take-home groceries. This is in line with the trend on the previous 12-week read and reflects the steady nature of this long, drawn out, third lockdown. The reason behind the market growth of 16.3% is the almost total transfer from food service and out-of-home consumption into grocery retail and take-home consumption. But the food service sector isn't entirely closed. Many operators, particularly the fast casual restaurants, have successfully pivoted their businesses and developed online and take-away solutions. As a result, they've been trading through this third lockdown quite capably – in some cases as strongly as they would when not in lockdown.

Food Service
A couple of weeks ago, I did some research with Irish consumers, which showed that the average household of four people – two adults and two children – are spending €175 per week on take-home groceries. Interestingly, they're also spending, on average, €37 per week in the food service sector, including takeaway coffee, takeaway ice-cream or takeaway from the Chinese or the Indian or pizza and traditional restaurants. In fact, 39% of that cohort are ordering takeaway every week to relieve the monotony of constantly preparing food at home.
SuperValu
Looking at the individual retailer performance, SuperValu are in first place for the first time since August 2020, knocking Dunnes off the top spot. This reflects a very strong new year for SuperValu, with their market share now sitting at 22.3%. Compared to the same period last year, SuperValu's market share is up 0.9%. It's clear that lockdown suits their business model. With over 220 stores, they have by far the biggest store estate and consumers who are restricting their movements have a better chance of having a SuperValu store in close proximity.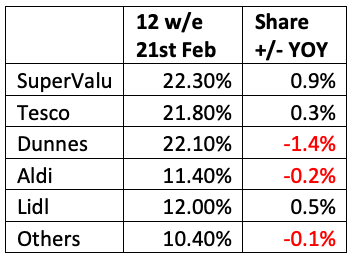 Over the past year, there has been a growing sense of supporting local businesses and a growing appetite for local provenance. SuperValu certainly meets both of these needs. They also have a very strong online offer for customers who are nervous about shopping in-store, or whose lifestyle demands that they simply don't have the desire or the time to go into a store.
Throughout January and February, SuperValu have had two really strong campaigns running. The 'Believe in Communities' campaign has been very effective in promoting SuperValu as the safest stores to shop in from a hygiene and social distancing perspective – a really important competitive territory right now. The 'Believe in Value' campaign is promoting the private label range of over 2,000 SKUs. SuperValu see the importance of having a sharper private label offering and their price perception is improving as we face into what may be a tough recession for many consumers.
Dunnes Stores
Dunnes Stores take the second spot over this 12-week period. Of all of the "big five" chains, Dunnes have the least number of stores and, as a result, they have a proximity challenge. Consumers who don't live in a big town near a Dunnes are unlikely to come across one while restricting their movements. In addition, Dunnes were the last of the five retailers to get started with online groceries and deliveries.
Another factor with Dunnes is that their drapery and non-food departments were a significant draw for footfall into their stores. We have certainly seen this in previous years when they managed to maintain a strong market share – particularly around midsummer, when many consumers were out of the country on holidays. Some of that is down to their non-food range, with customers spreading out that significant back-to-school spend on school uniforms and other non-food items. In a year where their non-food and drapery are regarded as non-essential retail, they could miss out on this footfall.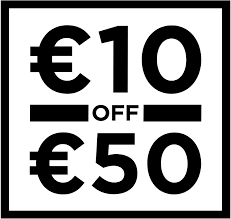 Finally for Dunnes, there is the challenge around vouchers, online shopping and alcohol. From 11th January, new regulations mean that the sales of alcohol cannot be discounted via purchases of other products. As such, Dunnes' Shop & Save and SuperValu's Spend & Save vouchers cannot be earned from the sale of alcohol. Further, they are not admissible in exchange for the purchase of alcohol. This will have impacted their market share in this key category and it will create a barrier for their Buymie online shopping solution since vouchers cannot be used for online purchases.
Tesco
Tesco are in third place with their market share sitting at 21.8%, up 0.3% on last year's market share. Their increased market share comes despite some Brexit-related availability issues, which have hit Tesco slightly harder than the other retailers.
Tesco's improvement year-on-year may reflect a weaker performance in the same period last year. It will be interesting to see how they perform when they're overlapping last year's panic buying and the sustained uplift that follows. That will be a real leveler for all of the retailers when comparing somewhat like with like.
Aldi
Aldi's market share has grown period-on-period, but it's down year-on-year again, sitting at 11.4%. Their sales per square meter are too concentrated, especially at the busier weekend times. As a result, Aldi are in a weaker position than the rest of the retailers to avail of the +16% market growth because their stores are simply so busy. Aldi stores are especially busy when they do a Project Fresh redesign, which can deliver anything up to 25% sales growth. While that worked in their favour before the pandemic, consumers may now feel uncomfortable shopping in a busy Aldi store.
Aldi have opened six new stores which are contributing to their year-on-year sales. As per the UK, the space issue is putting some people off, however they are producing the highest sales per square metre of all of the "big five" stores. Perhaps there are strategies that they could develop in the short and medium-term to deal with the busyness of their stores. They could upweight their communications, encouraging shoppers to use the store earlier in the week, when it's quieter. They could actively encourage customers to shop during quieter periods by having day-specific early week deals. That might help them to spread out the shopping and flex their strengths i.e. that they've got fantastic looking stores and a great range and price proposition. They could also consider creating standalone department level pop-ups in vacant units, especially in the categories maybe where they under trade and need a bit more space to trade.
Lidl
Lidl's market share now sits at 12.0%. They've gained 0.5% of market share, year-on-year, in the last 12-week period. That's lower than the recent trend, having been up nearly a full percent year-on-year for most of the last six months. That could reflect a stronger new year period last year, rather than anything going wrong this year.
The next market share read in four weeks' time will be fascinating, since both Aldi and Lidl, normally move up a gear significantly when they move through the St. Patrick's Day trading periods. In the last three years combined, combined discounter market share has gained anything up to 1.7% in the four weeks moving from the end of February until the end of March. It will be interesting to see what happens this year and how that relates to what happened last year with all of the turbulence around panic buying and the start of the pandemic.
For a deeper dive into the current trends, join me at 10am on 26th March for my next Ask Me Anything session. Attendance is free but registration is essential.
Malachy O'Connor
Retail Industry Consultant & Director at Food First Consulting www.foodfirstconsulting.ie
Partner at International Private Label Consult www.iplc-europe.com
Partner at Uspire Ltd. www.uspire.co.uk