Headlines
The Kantar Worldpanel data for the 12 weeks to January 24th sees Dunnes stay in first place on 22.6%. SuperValu edge ahead of Tesco to take 2nd place on 22.1% and Tesco are third on 21.9%. Lidl are fourth with 11.9% and Aldi are fifth with 11.3%.
The market grew by +16.4% during this latest period covering sales from 2nd November 2020 to 24th January 2021. This is considerably down on the +25% growth we saw during the first lockdown but growth of +16.4% still equates to nearly €450m extra spent on groceries over the 12 weeks.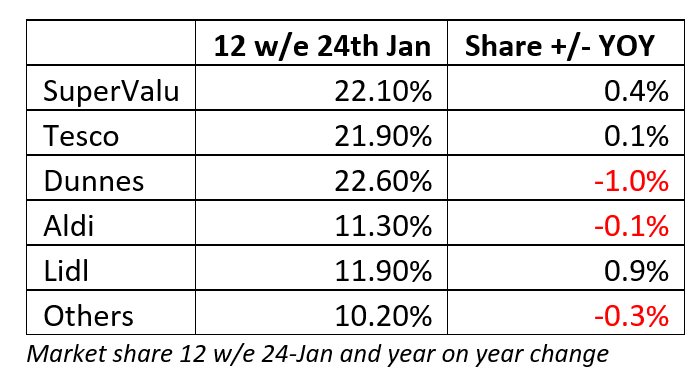 Lockdown Three
This third lockdown is different from the first for two key reasons. Firstly, the food service sector is now much better prepared for a period of take-away only trading, having invested significantly in online selling solutions. Secondly, bear in mind the restrictions on non-essential retail. The discounters, Tesco and Dunnes all stock products that are not currently eligible for sale. And whilst these non-essential product sales were never captured within 'grocery' market share, they may have prompted additional visits to the supermarket in previous lockdowns. This dynamic may be adding an extra skew to their relative business performance.

Dunnes are the number one supermarket at 22.6% share, but their sales didn't grow as fast as the market, so their market share is down a full 1% versus last year. The two key issues are their low store numbers relative to their competitors and their relatively late start in online grocery retail. That said, they have had a decent 12 week period, the roots of which lie in their Christmas 2020 performance. The four weeks into Christmas saw many discounter customers switching to Tesco and Dunnes especially. For shoppers that switched to Dunnes for their big Christmas shop, they received a €10 voucher for every €50 spent. This guarantees Dunnes a good start to the new year as these switchers stick with Dunnes to use their vouchers during the long, lean month of January. As a result, Dunnes share has ticked up slightly since the last read.
SuperValu are now the number two retailer at 22.1%, enjoying the benefits of their superior store numbers, offering proximity benefits to shoppers who are restricting their movements. Their share is +0.4% year on year and they have kicked in to 2021 with two strong marketing campaigns highlighting their expanding private label range alongside messages around in-store safety. 'Safest Place To Shop' is the new competitive territory.
Tesco have fallen to third place with 21.9% market share but their share has improved year on year thanks to over-lapping the loss of the Douglas Shopping Centre store. Their year on year share performance is very consistent, despite some Brexit supply chain disruption.
Battle of the discounters
Lidl and Aldi offer a compelling value proposition for stretched shoppers in the long weeks of January. For households that over-spend at Christmas, the obvious solution is to switch to private label and many chose to do this in a discounter. Competition is fierce, but the interesting thing is that it looks like the two discounters are competing more directly with each other than they are with the mainstream supermarkets.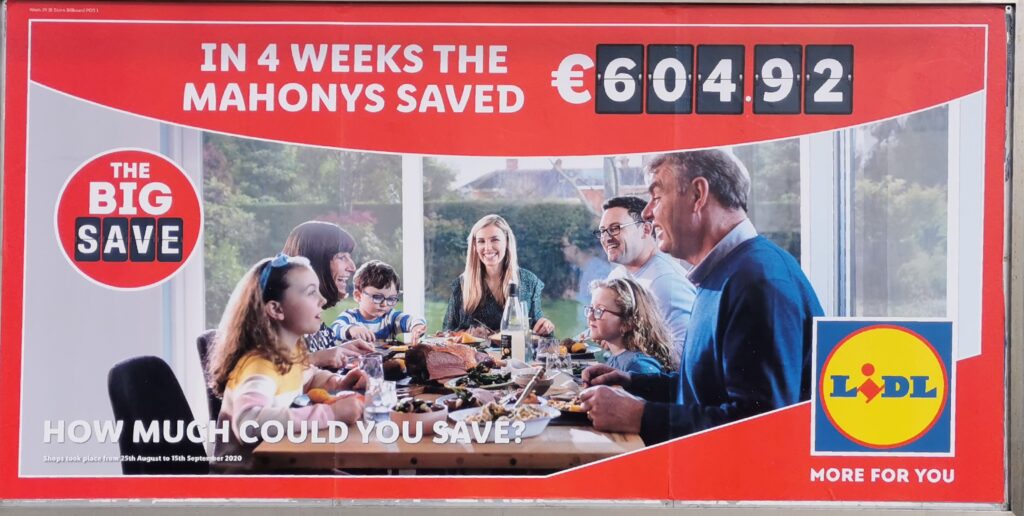 For example, Aldi's latest round of Swap & Save ads sees the Meldrum family of Leitrim saving €479 over 4 weeks whilst Lidl's Mahony family had saved €604.92. In a separate competitive territory, Aldi announced 1,050 new jobs for 2021 whilst Lidl claimed 1,200 new jobs! Lidl recently won an IQFA award for best Covid response, whilst Aldi has won a Pakman award for excellence in recycling.
Lidl jumped on the Jerusalema train with their video hitting social media at 13:07 on 10th Feb, followed by Aldi 5 minutes later at 13:12. And this heightened competitive environment has now over-flowed on Twitter where @Aldi_Ireland apparently proposed a date with @Lidl_ireland. Lidl suggested that it probably wasn't appropriate since everyone thinks they're brothers. Lidl proceeded to block Aldi, Aldi retaliated with another tweet and it culminated in Aldi sending flowers to Lidl's head office via Deliveroo. That escalated quickly!!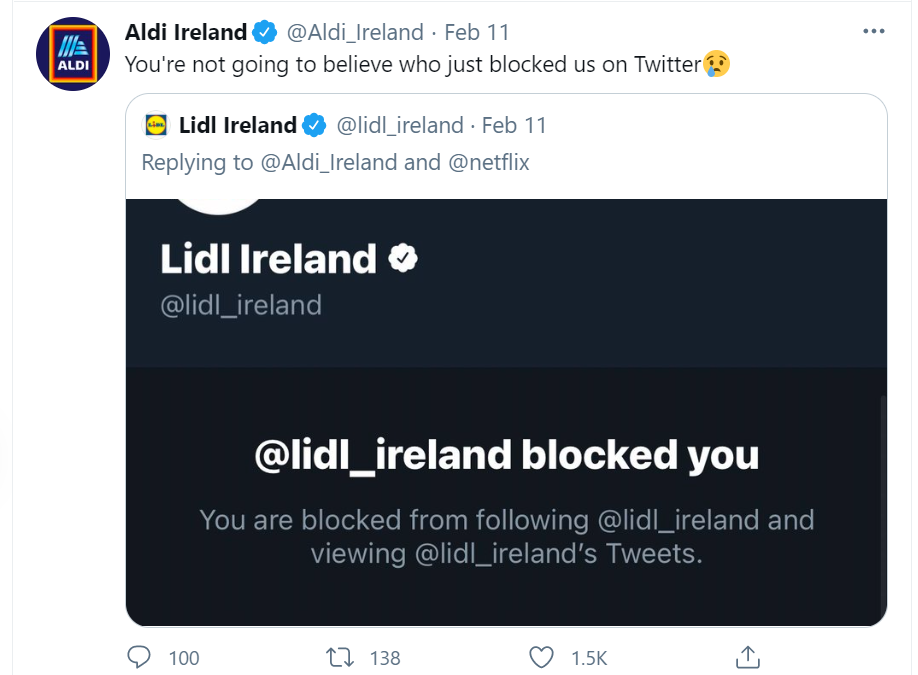 This is just a flavour of the constant flow of new messages as each retailer tries to gain an edge. And if you're wondering which discounter is winning, then it depends how you look at.
Aldi currently have 11.3% share versus Lidl's 11.9%. But Lidl have 168 stores versus Aldi's 145. Aldi's share is benefited by 6 new stores year on year and they are growing behind the market. Lidl have opened 5 new stores but they are growing at +25.6% year on year. Looking at store level performance, based on Kantar's numbers, the average Aldi store is currently generating €20,000 per week more sales than the average Lidl. The problem is that Aldi currently have less capacity to absorb the pandemic uplift, so their market share is declining slightly year on year. But in the context of Covid it looks like Lidl are winning overall. They are further down the road on e-commerce, have a more nimble supply chain and have been more innovative and responsive overall. This level of active competition means that in Ireland we have one of the most highly developed discounter markets in the world. Just look at Northern Ireland where Lidl don't have Aldi to compete with but have way less share than in the Republic. Let's see how the battle evolves.
Join me at 10:00am on 26th February for next Ask Me Anything session, where we will take a deeper dive into the current trends. Tickets are free but registration is essential.
Malachy O'Connor
Retail Industry Consultant & Director at Food First Consulting www.foodfirstconsulting.ie
Partner at International Private Label Consult www.iplc-europe.com
Partner at Uspire Ltd. www.uspire.co.uk