Headlines
The Kantar Worldpanel data for the 12 weeks to November 1st sees Dunnes on 22.2% taking back 1st place for the first time since March 2020. SuperValu are in 2nd place on 21.9%. Tesco stay third on 21.2%. Lidl are fourth with 12.7% and Aldi are fifth with 12.3%.  The market grew by +14.4% during this latest 12 wk period. This is considerably down on the +25% growth we saw during the mid-summer lockdown but growth of +14.4% still equates to over €360m extra spent on groceries over the 12 weeks.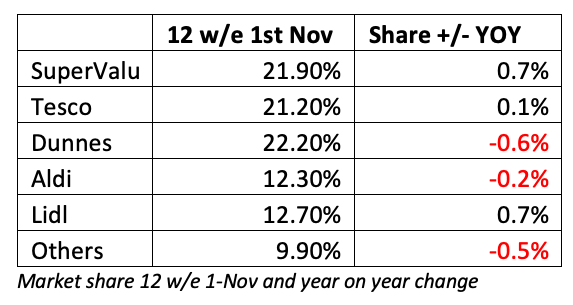 Restrictions Reimposed
The most recent Kantar data spans a 12-week period from Monday 10th August to Sunday 1st November and is made up of seven weeks of normal(ish) shopping where consumers had re-engaged with the food service sector and the growth in take-home groceries had moderated to about +12% year on year. The following five weeks saw uplifted sales with the Dublin Level-3 restrictions (18/09) eventually rolling out nationwide (07/10) and being quickly followed by Level 5 restrictions nationwide (22/10).
These restrictions had a noticeable effect, albeit without any significant panic-buying. Retailers did observe a cohort of shoppers stocking up and getting ready to stay at home and restrict their movements. Many of the dynamics are similar to the first lockdown period but there are some additional points to note.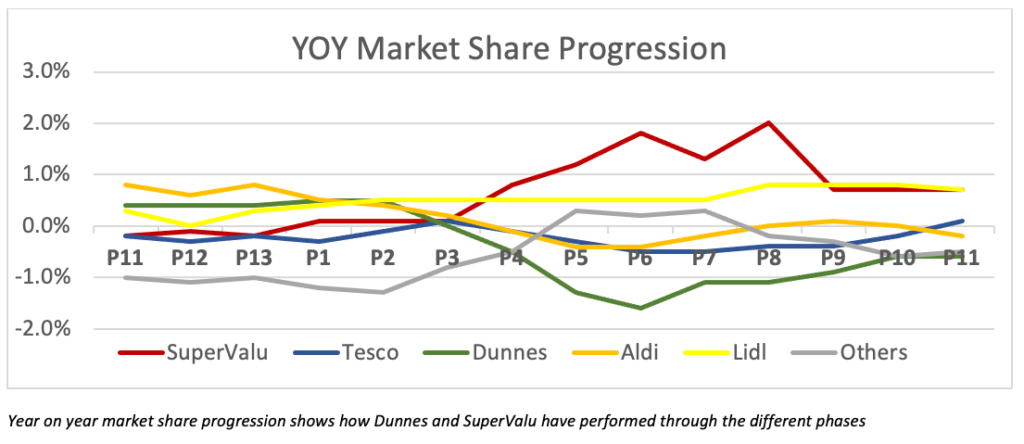 Dunnes & SuperValu
This second lockdown is quite different in nature to the first. Firstly, the restrictions are not so onerous as in April, May and June. We're not restricted to 2km, and whilst we're encouraged to work from home, the roads are quite busy and the economy is largely still functioning. Certainly, there are none of the ghost town drone videos circulating on social media. Secondly, there's a sense of fatigue with regard to the restrictions. People appear willing to test the extremes of their 5km limit, but we're all wearing masks as standard and anxiety levels are lower. As a result, shoppers are not shopping ultra-locally to the same extent as the summer and they are not competing for delivery slots from online orders. In line with this, the fortunes of Dunnes & SuperValu appear to be closely linked.  SuperValu's +220 stores and online infrastructure are less of an advantage this time around.  Equally, Dunnes late start with online groceries, and their +100-store estate are less of a handicap for them. This dynamic sees Dunnes return to 1st place and SuperValu slip to second but it's worth noting that SuperValu share is still 0.7ppts above last year and Dunnes share is still -0.6ppts behind last year.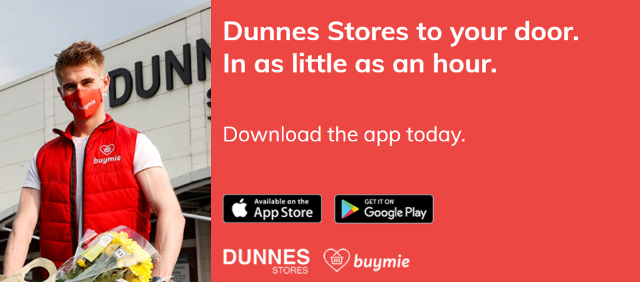 Tesco's latest market share sees improvement. Again, with the second lockdown, their large stores can handle more footfall and their online offer is the best in the market. They've also overlapped the loss of the Douglas Shopping Centre store and relaunched major revamps in Dundrum and Swords. Finally, their competitive position is sharper versus last year, having invested in both branded and private label price cuts.
Lidl are managing the pandemic well. They have a lot in common with Aldi, but lots to differentiate them too. They are much further along with their online business via Buymie.ie now covering Dublin, Greater Dublin and Cork. Their stores are bigger on average than Aldi's and they have a 20-store advantage which is handy if the market uplifts by 20% and the shoppers need a bit more space. They have also been much more open to stocking branded food and drink products, both in core range and as special buys.
Aldi are growing, just not as fast as their competitors. As a result, their market share fell back to 12.3% in this latest 12 weeks. September and October are usually a peak market share period for the discounters since they are relatively stronger at Back to School and Halloween than at Christmas. But a subdued Halloween, and the limitations on selling non-essential items appears to have impacted Aldi badly, especially their middle aisle proposition. Bear in mind that Aldi are carrying the benefit of 5 new store openings and 8 project fresh re-furbs in these numbers. For many years, Aldi could be rightly satisfied that they were able to generate higher market share from less stores than Lidl. But in the pandemic, it would appear that having less stores and smaller stores than Lidl is a disadvantage that is compounded by not having an established online offer.
On the upside, as of mid-November, Aldi have extended the Deliveroo trial and are now covering Dublin, Cork, Galway & Limerick with up to 330 products available for online ordering and rapid delivery for a fixed €4.99 fee. Aldi UK are trialling click & collect currently so watch this space for a trial in Ireland too. Aldi Sud also opened an XXL super-large format in October, with almost 2,000m2 of sales space in Mulheim so they can't be accused of not addressing their challenges. 
Christmas 2020
As we approach our first lockdown Christmas, retail staff have a mammoth task ahead. Trying to make Christmas as 'normal' as possible, maximising on-shelf availability and managing the flow of customers. Christmas week sales can be 2 or 3 times a normal week so retailers will need to think about how they manage social distancing and spread out this peak footfall to allow for everyone who needs to buy a Turkey that isn't available until 19th December. Tesco have acted early and have launched radio ads to remind us to stick to one person per trolley where possible and to use the quieter days and times to avoid the queues.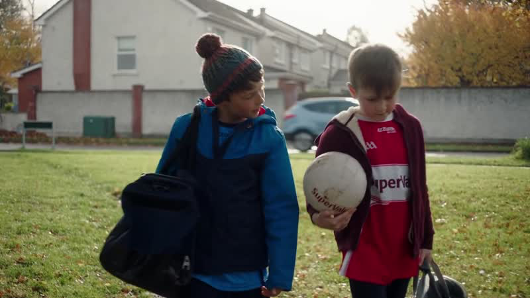 The other magic ingredient to a successful Christmas is  'The Big Ad'. This is a huge opportunity to connect with shoppers as fellow people, tugging heart strings, saying "we get what you're going through". So, it remains to be seen who will win the battle of the Christmas ads.  Lidl and Aldi have ignored the pandemic altogether with their mischievous elves and Kevin the Carrot doing Top Gun. Tesco are focussing on the funny side of the pandemic with their 'naughty list' ad. SuperValu's 'little boy and his grandad' ad is a beautiful example of gently capturing the moment. I think it will place them strongly in Irish consumer's hearts this Christmas. And at a time when 'shop local' is the mantra, there is an opportunity for SuperValu to leverage their store numbers advantage and online capacity and maybe get back to number one. They've just got to believe.
To delve even deeper into the current trends, join me at 10:00 on 11th December for my next Ask Me Anything session.
Malachy O'Connor
Retail Industry Consultant & Director at Food First Consulting www.foodfirstconsulting.ie
Partner at International Private Label Consult www.iplc-europe.com
Partner at Uspire Ltd. www.uspire.co.uk