Headlines
The Kantar Worldpanel data for the 12 weeks to July 12th sees SuperValu maintain first place with 22.4% market share of the take-home grocery market. Tesco are also steady in second place with 21.1% and Dunnes stay third, having improved to 20.7% market share. Lidl are fourth with 12.7% and Aldi are fifth with 12.3%.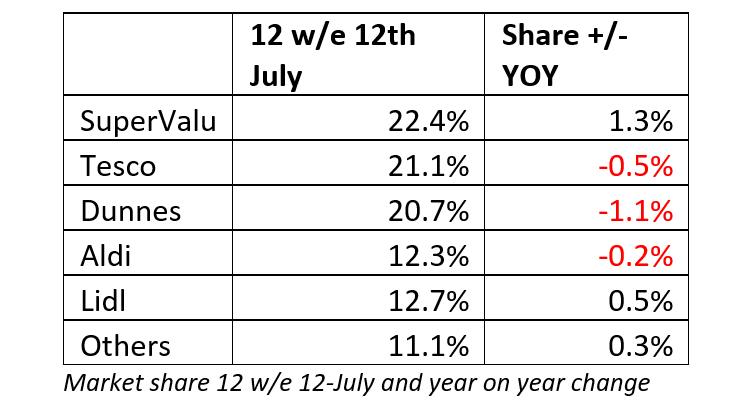 Unwinding the lockdown
The most recent Kantar data spans a 12 week period from Monday 20th April to Sunday 12th July which was a period of immense societal change as we witnessed our darkest days and then edged back to some kind of normality. were still in full lockdown for the first four weeks of this data set and the first two weeks were actually Ireland's peak period in terms of covid deaths and new cases. But this period also includes the phase 1, 2 and 3 re-openings, and we can clearly see this impacting market level and individual retailer performance, especially phase 3 when the hotels, restaurants, cafés and gastro-pubs reopened.
In general terms, we can see a partial unwinding of the effects of lockdown on consumer behaviour and retailer performance. The biggest change came at the back end of this period when the phase 3 re-openings saw 'out of home' consumption return, combined with unlimited travel within Ireland. Many hotels, restaurants, cafés and gastro-pubs reopened on 29th June and thus began the rush to secure staycation accommodation. And with no limitations on travel, cross-border shoppers could spend their grocery budget in Northern Ireland again.
With the market growing at +23.2% over the 12 weeks, and +17.8% over the last four weeks, I'm guessing that a truer picture is that the market growth actually dropped to around +10% in the two weeks following the HORECA sector re-opening. This is consistent with reports of the sector working at 40-50% capacity. This change has meant that all retailers have lost sales, but also that market share is realigning too.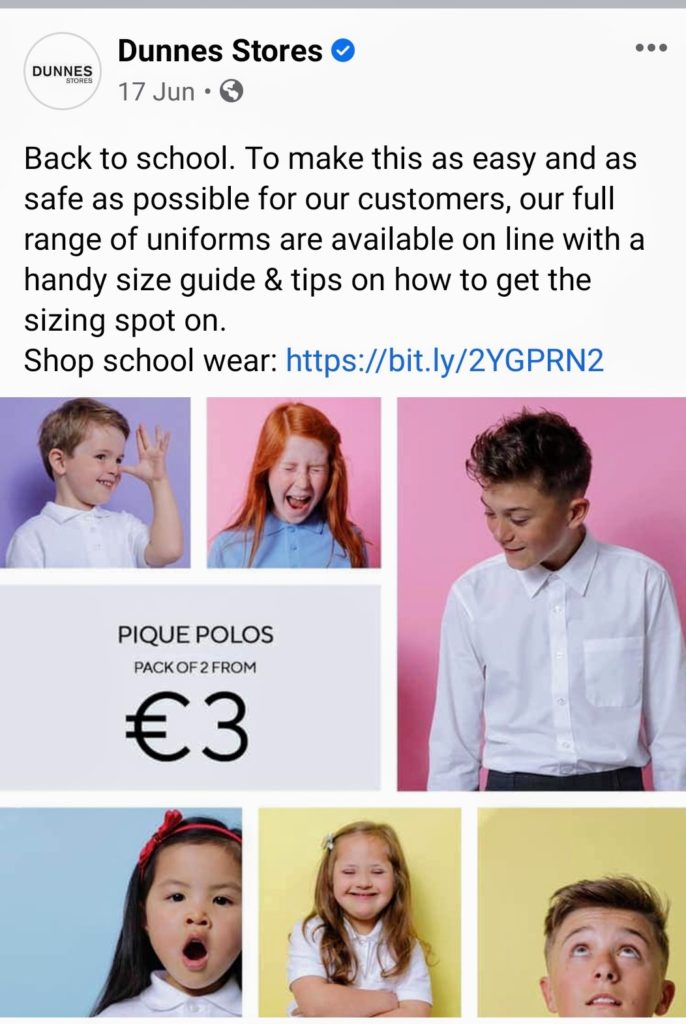 Several retailers have seen their share improve in this scenario. Dunnes Stores have improved by 0.2ppts period on period, probably aided by their traditionally strong summer performance with school uniforms pulling shoppers back in-store from mid-June. They're also focusing on value with heavy advertising around their 'shop & save' voucher and 'Everyday Savers' private label range. Lidl continue to improve with share reaching 12.7%. They've been quick out of the blocks on crowd control, queue management, in-store hygiene protocols etc. They've got most things right during the pandemic period and have continued to benefit from a bigger store estate of slightly less busy stores. Their back to school uniforms launched 6th July so this extra footfall will have benefited their share in this period. But for me, the two key stories here are Aldi and SuperValu.
Aldi
Aldi were the biggest apparent 'losers' from pandemic sales patterns with their market share actually falling year on year. But just to be clear, their sales grew strongly, just not as strongly as some of their competitors. They lacked online capability and their smaller store estate gave a proximity disadvantage, with 142 Aldi shops versus Tesco's 152, Lidl's 163 and SuperValu's 221. They were slow to implement plexi-glass divisions at the till in the early days. And they've only just recently implemented traffic lights, crowd management monitoring and robust hand-sanitising stations in-store.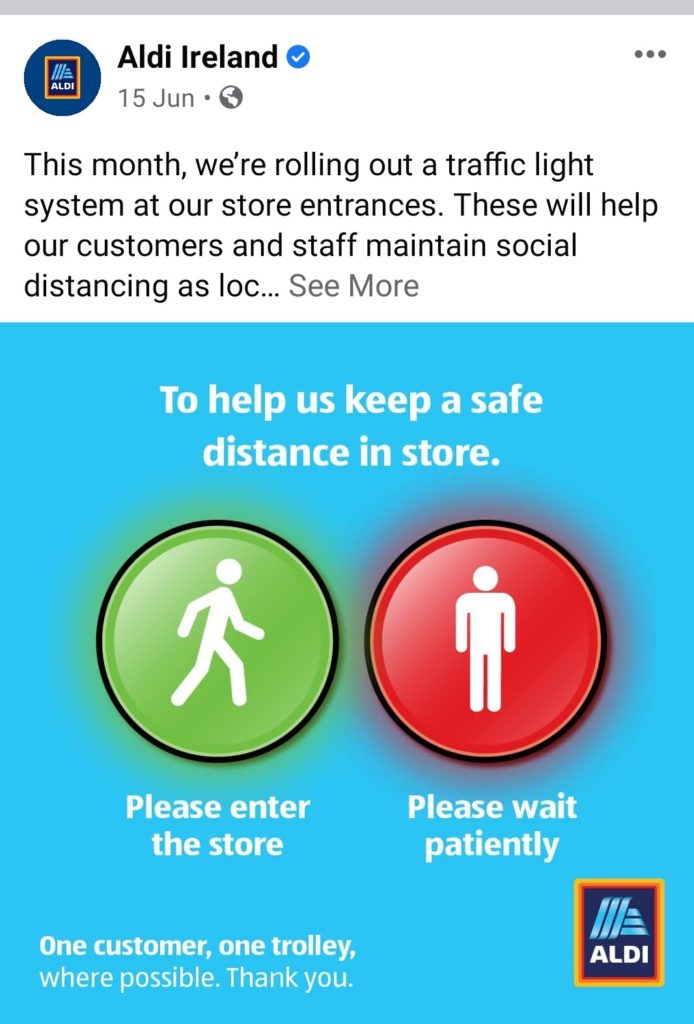 But the primary reason for their inability to grow in line with the market was that their stores were performing out of their skins pre-pandemic. Remember that most of their estate had just gone through the 'Project Fresh' revamp and was commanding slightly higher market share than Lidl, with 20 less stores. Take into account that they have the smallest stores on average, and we can see that they likely had the strongest sales per square foot of any big-5 retailer. Also consider their low average selling price, thanks to high private label penetration, and you'll start to understand that Aldi were shifting more packs per square foot than any of their competitors. And such is the strength of their supply chain and store operations capability, they actually managed to increase those volume sales even further during the pandemic period.
They achieved this by adjusting opening hours, simplifying the range, clearing OFDs off the shop floor, bonussing their staff to work even harder and addressing those early concerns around crowd control and hygiene protocols. Their performance is nothing short of epic and, make no mistake, they will carry these learnings into the post-pandemic recession period.

The Chinese word for crisis is made up of two symbols meaning 'danger' and 'opportunity'. Aldi always exploit the opportunity. Just like in 2009, with Tesco's 'Change for Good' campaign. It may have created a short period of price adjustment and deflation, but it taught Aldi that they could grow the business even faster with a long-term sharpening of its competitive position. Similarly, the delayed opening of the Mitchelstown depot demonstrated that their supply chain could handle +100 stores from a depot like Naas. And impending Brexit disruption prompted them to find further supply chain improvements. Aldi have an immense capacity to dig deep and come out the other side even stronger. I think they're set up nicely for the coming recession.
SuperValu
Musgraves have been the big winners from the new pandemic sales patterns, with a store numbers advantage in their almost 700 strong SuperValu and Centra store estate. With government officially telling people stay home, shop local and support businesses in your local community, it's no surprise that SuperValu have benefitted greatly and their share peaked at 22.9% in the previous data read. These chance circumstances were exploited robustly by SuperValu by increasing their online capacity, early implementation of good in-store hygiene protocols, and effective marketing with the right mix of community spirit and an empathetic tone of voice. Their share has stepped back slightly to 22.4% but they remain the fastest growing retailer of the big five, posting +30.9% sales growth in this 12-week period.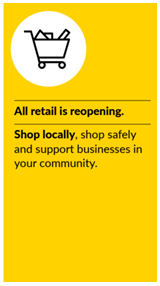 These chance circumstances were exploited robustly by SuperValu by increasing their online capacity, early implementation of good in-store hygiene protocols, and effective marketing with the right mix of community spirit and an empathetic tone of voice. Their share has stepped back slightly to 22.4% but they remain the fastest growing retailer of the big five, posting +30.9% sales growth in this 12-week period.   
This was aided by two new factors. Firstly, SuperValu have proportionately more stores than their competitors in the key staycation hot spots like Dingle and West Cork. They will continue to benefit from this as the summer draws to a close. The other consideration is that SuperValu are over-lapping softer numbers from 2019.  June and July 2019 saw them bottom out at 21.1% share, from which point they have been growing consistently ever since. The question is, how can they retain this pandemic sales uplift? Their most recent advertising may give an indication on this. 
Private Label, Brands and Recession-Readiness
The latest data read from Kantar shows that brands have grown more strongly that PL in the most recent 12 weeks. Brands grew at about +29% versus PL at +19% year on year. SuperValu's sustained strong performance automatically delivers stronger growth for branded products because of their range architecture. But it's interesting that much of their most recent communication, under the #checkthisout tagline, has been around price cuts and the strength of their Private Label range in an effort to tackle price perception challenges. I think this indicates a business that is looking forward, and wants to retain some of the pandemic gains, not on the strength of higher branded ASPs, but on the real, robust volume gains that come from a private label growth strategy.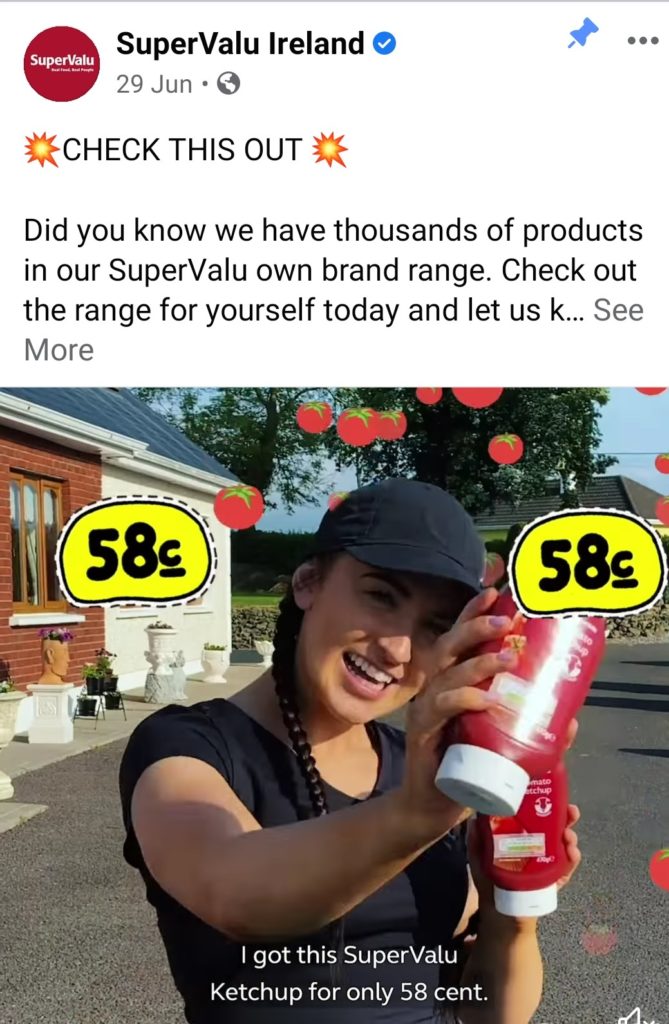 It's also interesting that Dunnes Stores have increased the strength and depth of their 'Everyday Savers' private label proposition. Dunnes stepped up their marketing on this range from mid-April and have maintained this focus since then. Their clever use of rounded price points helps divert from the fact that some of the price points are not the cheapest in the market. They are focusing on 'smart' meal solutions and recipes rather than 'cheap' products.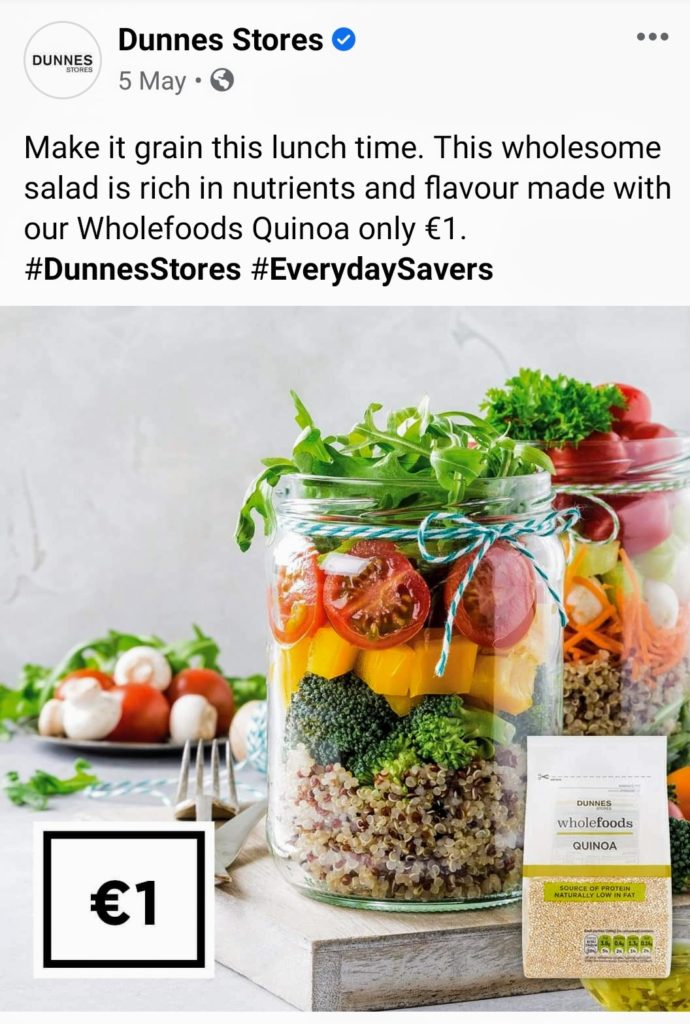 Tesco too have been sharpening their PL proposition with a revitalised 'red bubble' campaign and lots of communication around low cost meal solutions under the "With you in mind" tagline. But it's Aldi again that have grabbed my attention, relaunching their much loved 'Like Brands – Only Cheaper' campaign to give their PL proposition a push. They have store openings in the pipeline, and they continue to drop prices so it's pretty clear that they are deploying a tried and tested playbook for the upcoming recession. In my recent 'Ask me Anything' webinar I polled participants on their views around PL versus branded growth. 75% of participants reckoned that PL growth would out-pace brands in the coming years, which is as much a vote of confidence for the discounters as it is for the PL products they sell.
The next round of data for trading to 9th August will be really interesting as we will be able to assess further who's winning as we get back to normality. We'll also be able to see the impact of the early VAT cuts by Aldi and Lidl, Lidl's 20th Anniversary and new 'Lidl Plus' app and what traction Aldi are getting on their relaunched 'Like Brands' campaign.
Malachy O'Connor
Retail Industry Consultant & Director at Food First Consulting www.foodfirstconsulting.ie
Partner at International Private Label Consult www.iplc-europe.com