Many businesses are asking themselves about the true impact of the pandemic on online grocery shopping for customers, retailers, and suppliers. And this question filtered through in my recent AMA (ask me anything) webinar on 14th August. So, I'm going to quickly share what I have learned over recent months in the local market and around Europe.
Context
Back in March, April and May it was reported that up to half the world's population was in lockdown i.e. some form of quarantine, curfew or stay at home order. As a result, there were  four big emerging trends that were common to all markets: 
More in-home consumption: restaurants and cafes were closed so supermarkets were the only option
Less frequent shopping trips: people followed the 'stay at home' orders and travel restrictions
Mixed spending power dynamics: some people lost jobs and their economic outlook looked grim. Others simply worked from home and had less options to spend, so their savings increased rapidly.
Dramatic increases in online grocery sales: People, especially vulnerable groups, were especially keen to avoid contact with other people because of covid infection concerns.
Online Demand
There was a simple reason why people went online. In my own research, I found that 70% of customers were wary of the in-store environment. And months before it became mandatory, 50% of shoppers were already wearing gloves or masks. Thanks to this anxiety and the cocooning orders, many shoppers explored online for the very first time in those early weeks of the pandemic. And many more shoppers would have switched to online if they'd had a viable option.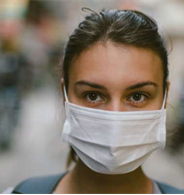 Capacity Issues
The limiting factor was the retailers' infrastructural capacity. There were stories of two to three-week delays in getting a delivery slot. To address this, the retailers requested that fit, healthy, young shoppers should allow these slots to be reserved for more vulnerable people. But despite capacity limitations, the trend across Europe was a huge switch into online grocery shopping.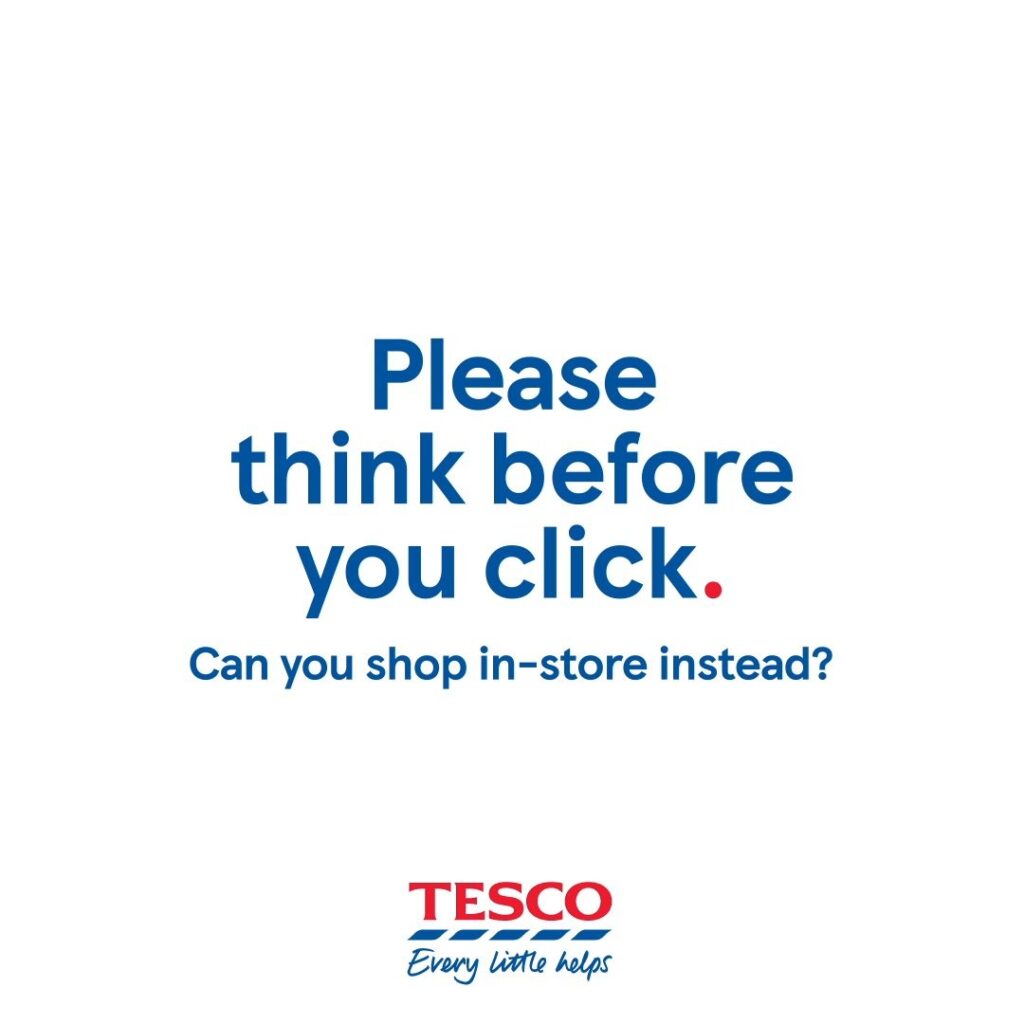 In Italy, for example, home delivered online groceries increased by 100% year on year during May '20. But Click & Collect increased by 400%! And that is interesting, because delivering lots more shopping requires investing in lots more vans and infrastructure. Click & Collect does not require the same investment. 
In the UK, where 6% of weekly shops were done online before the pandemic, that went up to 13% during the pandemic. Tesco UK doubled their online capacity to fulfil over 1.3 million orders per week and online sales increased from 9% to 16% of their total UK sales. 
In Ireland, where just below 4% of the big weekly trolley shops were done online before the pandemic, that increased to about 6% during the April-May lockdown. That is a 50% increase in penetration for the weekly shops. The most recent data from Kantar would suggest that the digital channels, whether delivered or click & collect, grew by 123% in the 12 weeks up until the 12th of July.
Reality
But the topline data can be misleading, and the reason is that there is still significant grocery shopping done beyond the weekly shops in terms of top-ups and convenience missions. Online groceries may still be only about 2% of all the groceries that are bought in Ireland. This is something to keep sight of whilst we see Aldi, Dunnes, Centra and SPAR entering this new channel. The pandemic prompted all those players to get into the online groceries business but it remains to be seen just how assertively they will push this new channel. Some of the new entrants have decided to utilise gig economy operators like Deliveroo.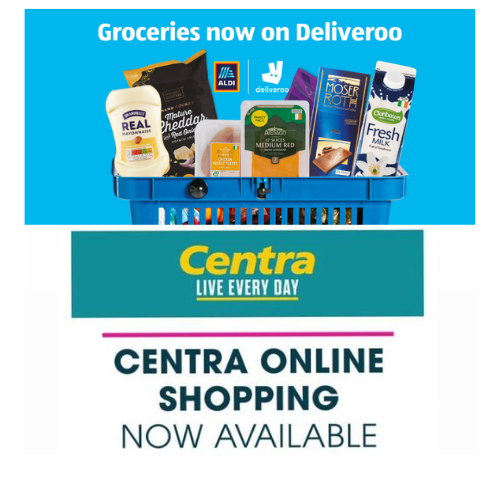 This means that the supermarket does not have to deal with those last mile delivery costs, which are the big limiting factor. Most industry experts would say that you do not make any money out of online groceries. But you must do it if the competitive environment demands it. Groceries is a low margin game, so a significant switch to online, and home deliveries especially, has the potential to negatively skew the margin mix. This will likely define how aggressively the brick& mortar retailers push their online channel.
Other Limiting Factors
Apart from retailer margin mix dynamics, there are other significant limiting factors. Firstly, customers simply do not want to pay for online ordering, picking and home deliveries. It probably takes about €10 to cover the costs of doing that but customers are very hesitant to pay anything more than €5. In fact, they would love to pay nothing and that is a real limiting factor on how aggressively retailers can drive their online grocery business. Secondly, you might think the online orders and home deliveries is the ultimate in shopping convenience. But many customers see it as an inconvenience, to have to stay at home, to be there when the delivery arrives. They want total control about when they shop and what they select. So, unless the household is going through a specific life-phase e.g. the arrival of a new baby, or the decreasing mobility of an elderly family member, then most shoppers will still choose the 'convenience' of popping into the supermarket when it suits their very dynamic schedule. The difference is that they may be popping into a click & collect location or drive-through concept with increasing frequency.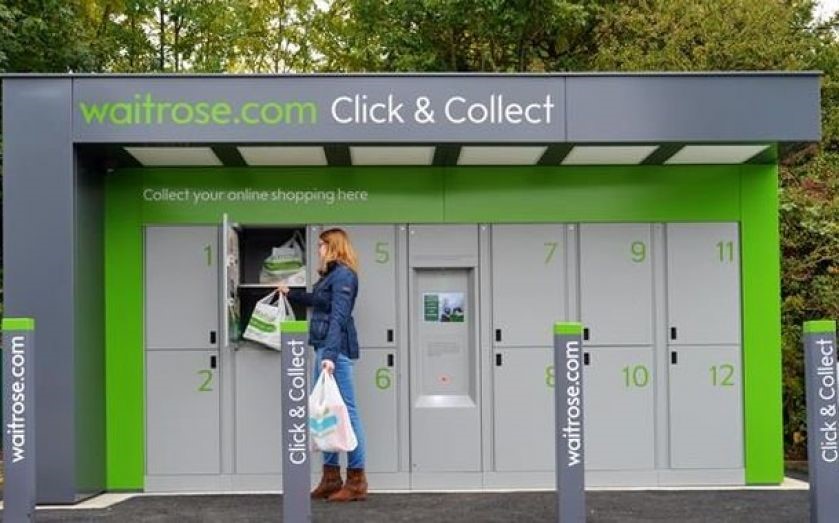 Brands & Private Label
So, what are people buying online? Looking across European markets, it depends on the country level margin dynamics. So, if you are in a market where brands deliver more margin, then the retailers are probably going to try and sell more brands online, to cover those last mile delivery costs. It is very expensive to get out to somebody's house in a van versus them coming into the shop and doing the shop themselves.
Alternatively, if you are in a market where private label delivers more percentage margin, then there is a better chance that the private label will get pushed online. But even if PL is delivering higher % margins, the retail prices are generally 30% or 40% cheaper than the brands, so the cash margin could still be lower because of the lower average selling price.
So, it is only in markets where click and collect or drive-thru has been adopted heavily that private label has been pushed heavily online. Keep this in mind as we look forward and grocery businesses try to balance consumer needs versus their own P&L needs.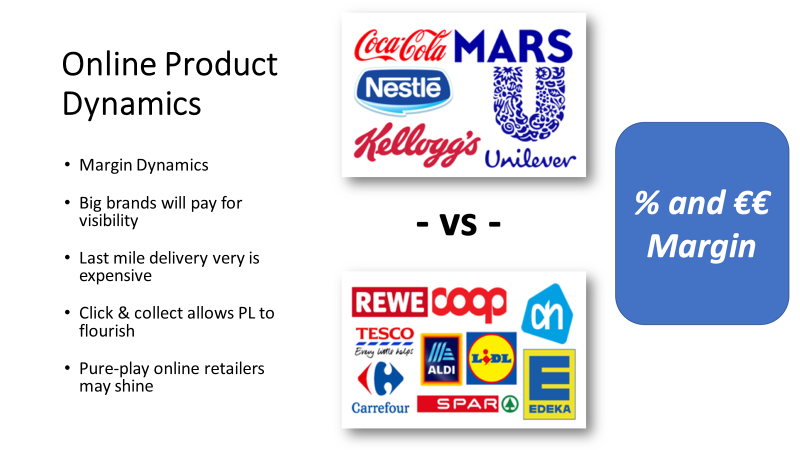 Small Producers & Artisans
With farmers markets and restaurants closed during lockdown, many small, start-up and artisan producers quickly moved online, to find new channels and to explore the opportunity to circumvent getting listed in a big supermarket chain. The challenge is that most artisans focus on producing a narrow range of high quality products. It takes some significant effort to drive customers to your website, and the reality is that most shoppers will not want to buy a two-month supply of your artisan product, however good it tastes or worthy it feels. In this scenario, the degree of sales generated through an artisan's own online channels will struggle to match a supermarket chain listing. 
So the challenge is to either expand the range, or to aggregate with other producers and make the transaction worthwhile, effectively becoming part of an online food market. There are good examples of this in Neighbourhood Food, The Fruit People, and Ballylisk Dairies. Have a look at the links below to see what they are doing:
So, smaller operators will still need that in-store listing if they want to scale up, but their online business will give them invaluable insights into customer profiles, rate of sale and regional differences. These are vital nuggets of information for small operators making a buyer pitch, without the budget to buy deep insights data.
Outlook
We anticipate continued growth online locally and across the globe.  But an emerging question is whether this growth will be sufficient for retailers to change their brick and mortar strategy i.e. will they close stores? Personally, I do not see that happening soon. There is too much invested in the bricks and mortar store chains for them to start closing sites and switching online. There would need to be a massive shift to prompt brick & mortar store closures, the kind we have seen in high street fashion retail. It is possible that pure-play online grocers like Ocado, or supply chain specialists like Amazon will mount a stiff challenge. But I would suggest that in the immediate future, discounter growth will be more of a threat to the supermarket's bricks and mortar chains than online growth.  
Malachy O'Connor
Retail Industry Consultant & Director at Food First Consulting www.foodfirstconsulting.ie
Partner at International Private Label Consult www.iplc-europe.com