Headlines
The Kantar Worldpanel data for the 12 weeks to September 6th sees SuperValu maintain 1st place with 22.1% market share of the take-home grocery market. Dunnes have moved up from third to second place on 21.3% followed by Tesco on 21.0%. Lidl are fourth with 12.7% and Aldi are fifth with 12.6%. The market grew by +13.7% during this latest 12 wk period, which is considerably down on the +25% growth we saw during the mid-summer lockdown. Growth of +13.7% equates to almost €350m extra spent on groceries over the 12 weeks. All the retailers are getting a share of this uplift, but some gain more than others under certain conditions.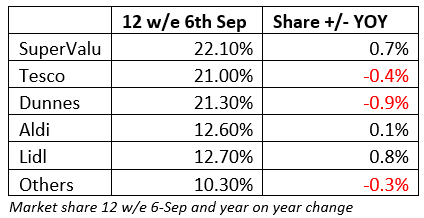 HORECA & Unrestricted Travel Returns
The most recent Kantar data spans a 12-week period from Monday 15th June to Sunday 6th September. In effect, we have 2 weeks of +25% growth followed by 10 weeks at +10-12%. During this period, we can see the impact on retailer performance due to the reopening of hotels, restaurants, cafés and gastropubs from 29th June. Consumers were glad of the opportunity to get dressed up and hit the town again, albeit socially distanced. There was also a degree of relief and relaxation as the virus had been heavily subdued. For example, in the 8 weeks from June 15th to 8th August there were only 1,330 new cases (in the 5 days to 28th September there were 1,382 new cases).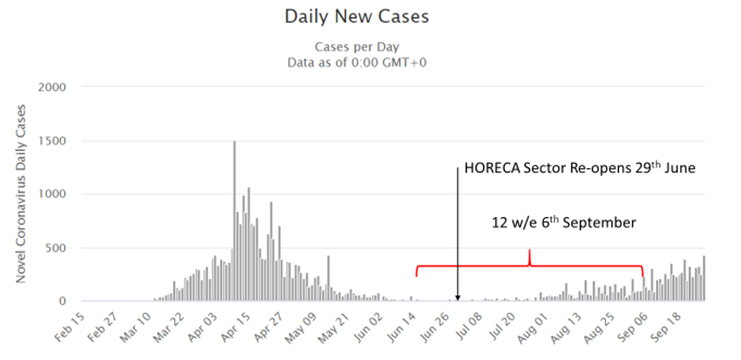 Source: https://www.worldometers.info/coronavirus/country/ireland/
SuperValu and Centra had been the key beneficiaries of proximity shopping, so the reverse was also partly true as the lockdown was unwound. With less pressure on the supermarkets, no restrictions on movement and less anxiety when shopping, the net result was that proximity was less important. During July and August, Irish households embarked on a summer of staycations, trips to catch up with relatives and grocery shoppers were able to travel unrestricted. Musgraves are strong in the staycation hot spots, so this definitely helped keep them in top position.
Dunnes, with the least number of stores, were the key losers regarding the proximity dynamic. Again, as things normalise, this dynamic becomes less of an issue for them. I surveyed consumers In June 2020 and found that 25% had switched to a different store as a result of the pandemic. When I repeated this in August I found that all but 5% had returned to their old pre-covid store of choice. This return is benefitting Dunnes as they move from 3rd to 2nd place. Dunnes have also benefited from Back to School shopping. They are really good at the big events, especially when they get to leverage their strong drapery offer in the form of school uniforms. Add in a well-timed Value Club mail-out and it's a good recipe for moving back up the ranks since any returning shoppers will now have €10 off €50 vouchers to spend in the coming weeks.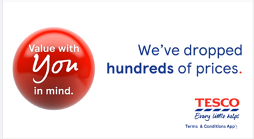 Tesco, with plenty of large footprint hypermarkets, had benefitted from a definite in-store space advantage for shoppers that were hyper-aware of their social distancing. They've been working hard to retain these shoppers, sharpening their price position with a raft of price drops under the 'Value with you in mind' campaign, combined with a Clubcard mailout promising €20m of savings. This strategy has worked as their year on year market share position has remained steady at -0.4ppts, which is pretty much equivalent to their closed store in Douglas Shopping Centre. The fire happened on 31st August 2019, so this was a drag on their performance for 11 of the 12 weeks we're looking at, but from here on, they start to over-lap this hit. On the upside, the Swords extension and Dundrum revamp were completed at the end of August so it will be interesting to see their market share and growth develop as we approach Christmas.

Lidl market share has been remarkably steady through all phases of the pandemic. They might have smaller stores than the big Tesco and Dunnes locations, but they do have the second largest store network at 163 stores. So, if they lost some shoppers to bigger formats where distancing was easier, they also gained some shoppers thanks to their proximity advantage. This probably over-simplifies their performance since they were VERY active, with a continuous stream of initiatives around customer flow, 'quiet time' chat-bots, robust hygiene protocols, online shopping through Buymie.ie, their 20th Anniversary, early VAT reductions AND the launch of the new Lidl Plus App.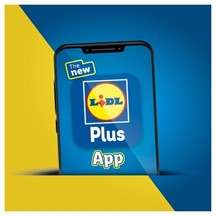 For most of the pandemic period, Lidl's market share was sitting +0.5ppts ahead of last year. And this has only strengthened in the last two periods, with a +0.8ppts advantage over last year. I think that the jury is still out, however, regarding the role of the new rewards app. It will take a while to convince hyper-productive Lidl staff to break their routine, engage a shopper to educate them about the app, and slow down the till in the process. When you understand the discounter mentality, that's as big a cultural change as a SuperValu, Tesco or Dunnes assistant ordering customers to pack their bags at the bench.
Aldi actually lost market share during lockdown. Having entered this peak grocery shopping period with an estate of 142 high-performing stores, they simply had less capacity to take a fair share of the uplift than some of their competitors. This apparent disadvantage becomes less important as shopping patterns normalise. It is interesting that Kantar call out the growth of brands in Aldi. Their branded sales are up +36% year on year, thanks to heavily upweighted food specials in the centre of the store and a new raft of artisan branded SKUs from the 'Grow with Aldi' programme. These items drive up the average selling price and have a positive impact on margin mix at a time when retailers are dealing with all of the extra operational costs of trading in a pandemic.
Another interesting time lies ahead for all the retailers as we approach autumn, with regional lockdowns and rising case numbers. Already we're seeing signs of anxious people hunkering down, limiting their social contacts and stocking up on essentials. Online is going to be a major feature this winter, and it feels like it's going to be a long winter.
Malachy O'Connor
Retail Industry Consultant & Director at Food First Consulting www.foodfirstconsulting.ie
Partner at International Private Label Consult www.iplc-europe.com